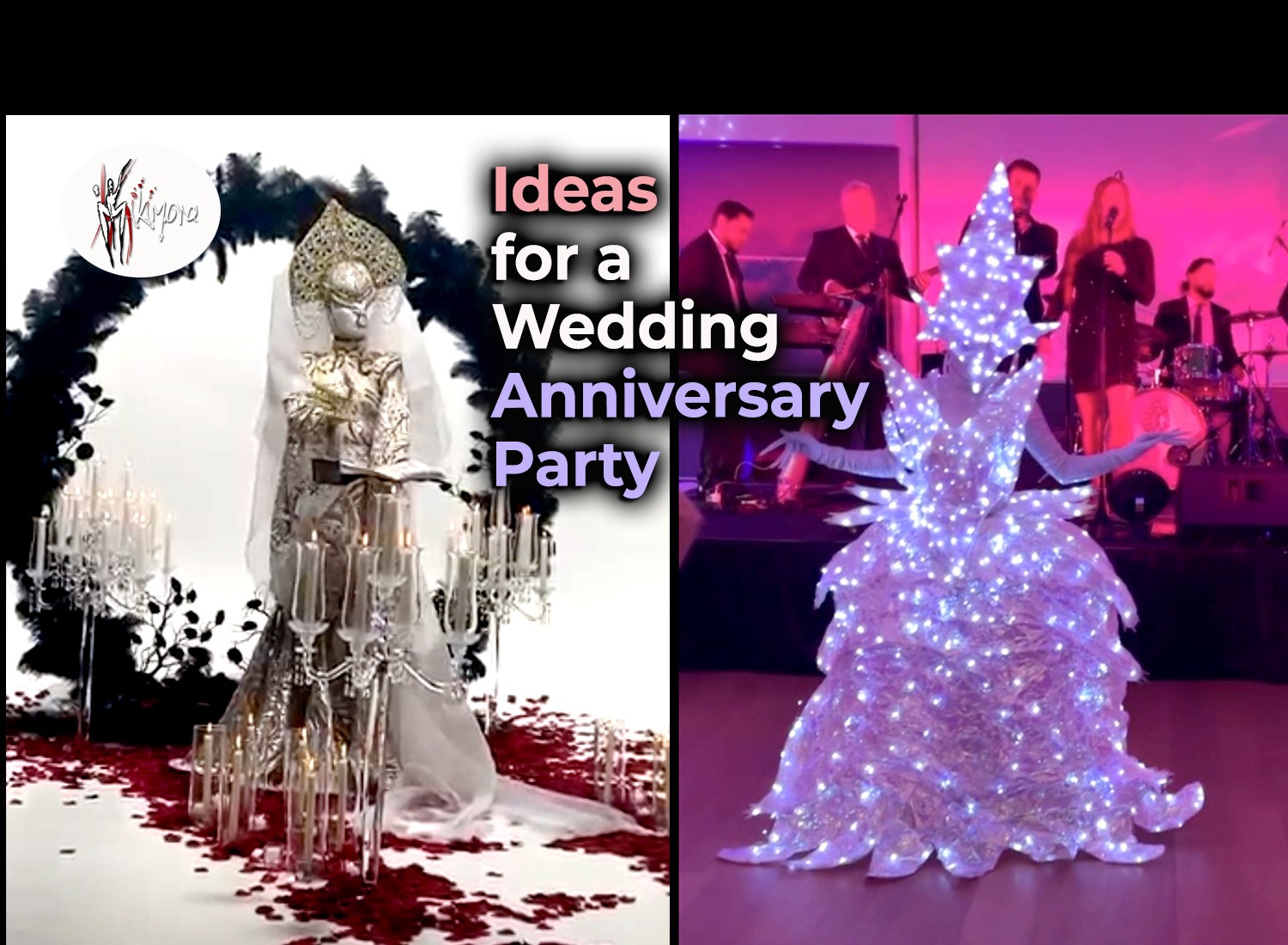 Ideas for Wedding Anniversaries
Wedding anniversaries are special occasions to celebrate the love and commitment of a couple. Whether it's a milestone anniversary like a 10th, 25th or 50th, or any other significant year, an anniversary party and appropriate gifts are a great way to celebrate with family and friends. 
Wedding Anniversary Party Entertainment Ideas

When planning the entertainment for the anniversary party, it's essential to choose something that will make the event unforgettable. 
Here are some entertainment ideas that can add a unique and memorable touch to your wedding anniversary party.
Costumed Dancers
Costumed dancers can be a fantastic addition to your wedding anniversary party. They can perform a choreographed dance routine or freestyle dancing to music. Dancers in elaborate costumes can create a festive and vibrant atmosphere, adding to the excitement and fun of the event.
Stilt Walkers
Stilt walkers are sure to catch everyone's attention with their towering height and graceful movements. They can entertain your guests with a performance, greet guests at the entrance or interact with guests throughout the event. Stilt walkers in colorful costumes can add a touch of whimsy and fun to the party.
Contortionists
A contortionist can add an element of awe and wonder to your wedding anniversary party. Their flexibility and body control are incredible to watch, and their performances can be customized to fit the theme of the party. Contortionists can perform solo or with a partner, making it a perfect entertainment choice for any size party.
Fire-Breathers
Fire breathers can create a spectacular show, and their performances can leave a lasting impression on your guests. They can perform fire breathing, fire dancing, or other fire-related stunts. Fire breathers can add a touch of danger and excitement to the party.
DJ or Live Band
A DJ or live band is a classic entertainment option for a wedding anniversary party. They can play music that fits the occasion, including songs that are significant to the couple. They can also take song requests from guests, ensuring that everyone gets to hear their favorite songs.
"A wedding anniversary is a special occasion to celebrate the love and commitment of a couple."
Traditional Wedding Anniversary Gifts

Traditional wedding anniversary gifts have returned as a popular way to celebrate the milestones and memories of marriage. Whether it's paper for the first anniversary, tin or aluminum for the 10th, silver for the 25th, or gold for the 50th, each gift represents the significance and symbolism of each year of marriage. Giving a traditional gift is a meaningful way to honor each milestone year and celebrate the love and commitment shared between a couple.
Here is a guide to traditional wedding anniversary gifts for the 1st, 10th, 25th, and 50th anniversaries.
1st Anniversary: Paper
The first anniversary is a special one, as it marks the first year of marriage. Traditionally, the first anniversary is celebrated with a gift made of paper. The significance of this is that paper represents the blank page of a new chapter in life. Popular paper gift ideas include a photo album, a love letter, a book, or a piece of artwork.
10th Anniversary: Tin or Aluminum
Tin or aluminum is the traditional gift for the 10th anniversary. These metals are known for their durability and flexibility, representing the strength and flexibility of a lasting marriage. Some popular tin or aluminum gift ideas include a personalized tin box, a set of aluminum cookware, or a piece of tin or aluminum jewelry.
25th Anniversary: Silver
The 25th anniversary is known as the silver anniversary, and it is a significant milestone in a couple's marriage. Silver is a precious metal that symbolizes beauty, radiance, and purity. Popular silver gift ideas include silver jewelry, a silver picture frame, or a silver keepsake box.
50th Anniversary: Gold
The 50th anniversary is known as the golden anniversary, and it is a remarkable achievement for any couple. Gold is a precious metal that symbolizes strength, wisdom, and prosperity. Popular gold gift ideas include a gold watch, a piece of gold jewelry, or a golden wedding anniversary cake topper.
Kikimora Studio
At Kikimora Studio, we have memorable entertainment options to delight and engage your guests. Our team of experienced entertainers are all skilled professionals who are committed to providing top-notch entertainment and creating a fun and festive atmosphere for your event.
Because we make our own costumes, our dancers, contortionists and other entertainers can be costumed according to the traditional gift themes of each anniversary (eg: paper, aluminum, silver and gold)
At Kikimora Studio, we are committed to delivering exceptional service and unparalleled entertainment for our clients. We take a personalized approach to our work and strive to create customized entertainment packages that meet the unique needs and goals of our clients. If you are planning an event and are interested in working with Kikimora Studio, we encourage you to reach out to us via our contact form. When we receive your request, we will contact you right away to learn more about your event and help you book the right event entertainment for it.