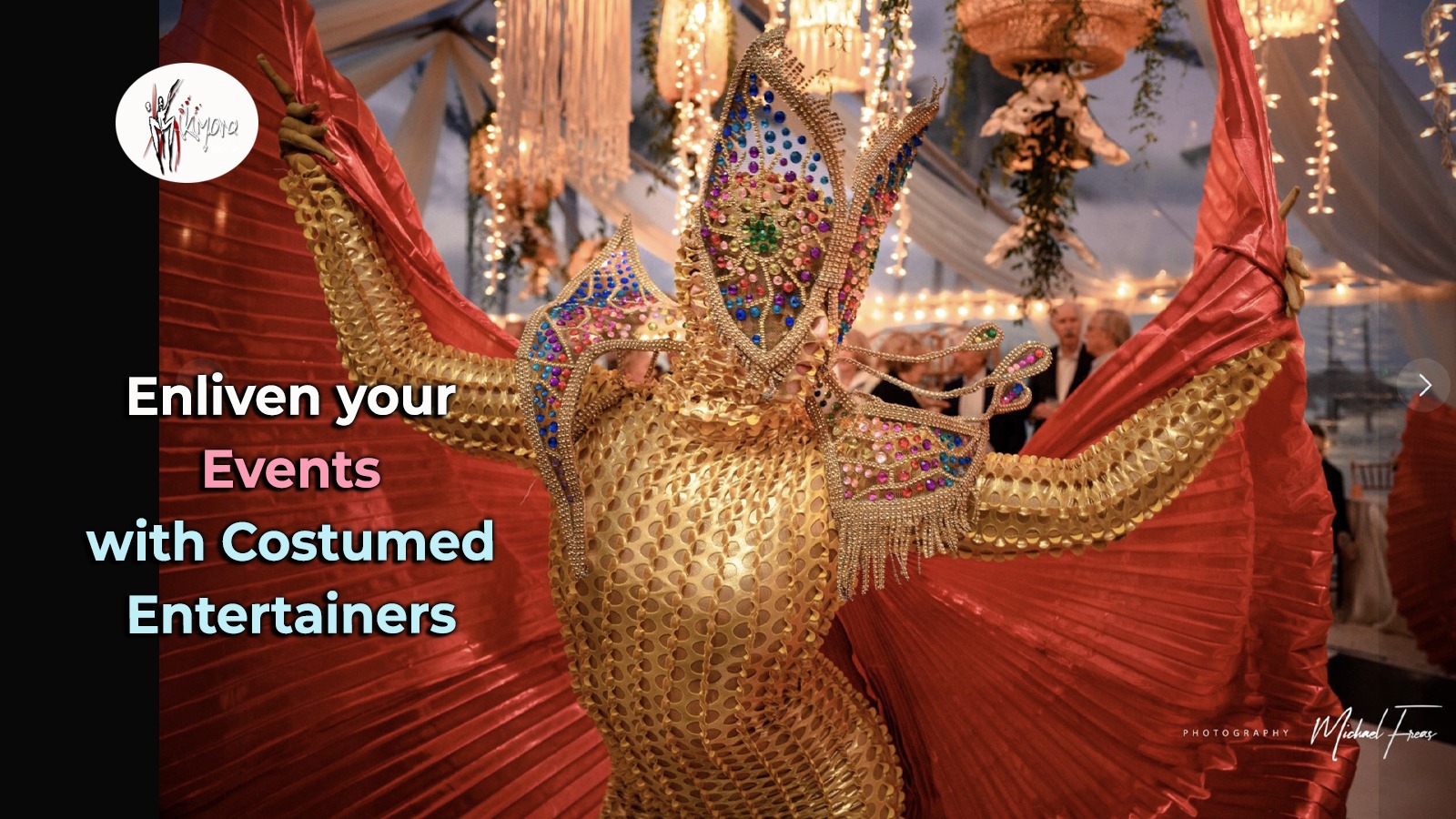 Enliven your Events with Costumed Entertainers
When it comes to planning a special event, you want to make sure that it is memorable and unique for your guests. One way to achieve this is by hiring costumed entertainers. Costumed entertainers can bring a touch of magic and wonder to your event, creating a distinct and unforgettable experience for your guests.
Great at any type of event
Costumed entertainment is a great addition to any event, including corporate events, wedding receptions, and other celebrations. For corporate events, these entertainers can add an element of fun and excitement to what can sometimes be a more formal affair. They can also help to break the ice and create a more relaxed atmosphere, allowing attendees to network and socialize more easily.
For wedding receptions, artistically costumed entertainers can create a whimsical and magical atmosphere. They can help to create a sense of wonder and excitement for your guests, making your wedding reception truly unforgettable. From stilt walkers and fire performers to acrobats and aerialists, there are many types of entertainers to choose from that can add a unique and memorable element to your special day.
For other celebrations, such as birthday parties, anniversary celebrations, or holiday events, costumed entertainers can add a touch of fun and whimsy. They can create a festive and joyful atmosphere that will delight your guests and make your event truly memorable.
A variety of options
There are many different types of costumed entertainment that you can hire for weddings, corporate events, and celebrations. Here are just a few examples:
Stilt walkers: These entertainers are sure to make a big impression at your event. They walk around on stilts, towering over the crowd and drawing attention wherever they go. Stilt walkers can be dressed in a variety of costumes, from elegant ball gowns to whimsical characters.
"…artistically costumed entertainers can create a whimsical and magical atmosphere."
Mimes: Mimes are a classic form of entertainment that can be great for corporate events or other more formal affairs. They use their bodies to tell a story, often without speaking a single word. Mimes can be dressed in classic black and white costumes, or in more colorful and elaborate costumes.
Exotic characters: If you're looking for something a bit more out-of-the-box, consider hiring an exotic character. This could be anything from a mermaid to a fairy to a mythical creature. These characters are sure to add a touch of magic and whimsy to your event.
Fire breathers: For events that are held outside or in large spaces, fire breathers can be a great option. These entertainers breathe fire and perform a variety of tricks with fire, creating a truly impressive spectacle for your guests.
Fire dancers: Similar to fire breathers, fire dancers use fire as part of their performance. They may use fire props such as poi or fire fans to create beautiful and mesmerizing displays of light and movement.
Living tables: Living tables are a unique and interactive form of entertainment. These tables are dressed up in elaborate costumes and can serve food or drinks to your guests, creating a memorable and interactive experience.
These are just a few examples of the many different types of costumed event entertainers that are available. When planning your event, consider the tone and theme that you're going for, as well as the preferences of your guests. With the right costumed entertainers, you can create a truly unforgettable event that your guests will be talking about for years to come.
Kikimora Studio
Kikimora Studio is a premier event entertainment company based in Miami, Florida and serving clients at events worldwide. Founded by Olga Saretsky and made up of a team of experienced entertainers and event professionals, Kikimora Studio is dedicated to creating unique and memorable experiences for events of all types and sizes.
Kikimora Studio also offers a range of event entertainment services. From costumed dancers and clowns to stilt walkers and balloon artists, we have memorable entertainment options to delight and engage your guests. Our team of experienced entertainers are all skilled professionals who are committed to providing top-notch entertainment and creating a fun and festive atmosphere for your event.
At Kikimora Studio, we are committed to delivering exceptional service and unparalleled entertainment for our clients. We take a personalized approach to our work and strive to create customized entertainment packages that meet the unique needs and goals of our clients. If you are planning an event and are interested in working with Kikimora Studio, we encourage you to reach out to us via our contact form. When we receive your request, we will contact you right away to learn more about your event and help you book the right event entertainment for it.