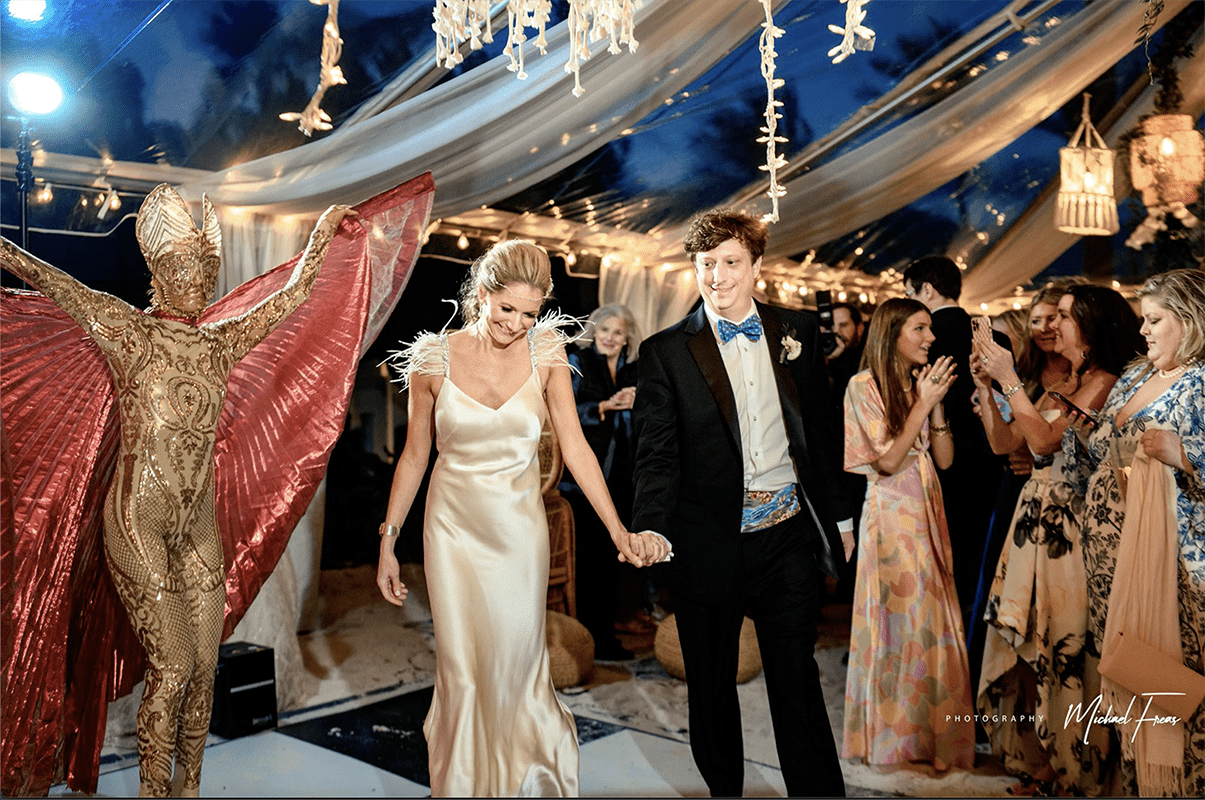 2022 Wedding Entertainment
WEDDING ENTERTAINMENT – Weddings are a hot topic this year as many people are celebrating in-person events for the first time in two years. In a year of many planned weddings, Kikimora Studio's event entertainers are available to make your wedding experience as unique and memorable as it can be!
With life returning to normal, in-person events are coming back with force. This includes a large backlog of weddings that were originally planned to happen during the last two years. Some 2.5 million weddings are scheduled for 2022 making this year the most "weddingful" since 1984!
A Different Breed of Wedding
Weddings happening this year are a little different compared to their pre-pandemic counterparts. Firstly, they are more likely to take place outside as people have a heightened awareness now of the COVID-19 virus, flus and even colds being easily transmitted during indoor events. Secondly, events this year are also likely to be scheduled on weekdays. The weekday trend is probably due to the high number of weddings this year leading to weekends being booked out. It can also be a result of the more flexible work-from-home schedules that many businesses allowed during the pandemic and have decided to keep.
A lot of this year's weddings and wedding receptions are also likely to be held at homes instead of in event venues. With venues currently booked out and inflation affecting wedding planning costs, many have turned to home-based weddings and receptions as more viable alternatives.
Finally, people are looking for unique ways to differentiate their weddings from the many others that are happening this year. They are seeking one-of-a-kind event entertainers and event experiences to stand out and be memorable.
"Weddings happening this year are a little different compared to their pre-pandemic counterparts."
Kikimora Studio
Kikimora Studio excels at making special, one-of-a kind experiences for event guests, including wedding events. Our style, known as high-fashion circus, involves elaborately costumed dancers, skilled performers, contortionists and other event entertainers. These elements combine to bring sophistication and uniqueness to any event.
There are a few details that make Kikimora Studio event performers stand out as some of the best in the industry. Firstly, the costumes are all designed and made by our founder Olga Saretsky. The outfits can be commissioned by our clients and tailored to specific events. Clients can also choose from an existing collection of characters and costumes as they plan their event.
Secondly, as a professional event entertainment company we are willing and able to travel to your event anywhere in the world! Based in South Florida, we have performed in a number of US states, Europe, the Caribbean and Latin America.
Finally, when you bring on Kikimora as your event entertainment provider, you have access to a one-stop shop for a multidisciplinary variety entertainers including:
Living Art
Fantasy character performances for stage and interactive shows, accompanied by unique live acoustic music
Stilt Dancers
Stilt walkers for greeting and dance performances. Including fantasy characters, in futuristic or traditional costumes.
Fire Acts
Lavishly costumed theatrical performers who juggle and dance with fire or eat fire to entertain your guests.
Contortionists
Contortion stage performance, inside a bubble, or in the form of gymnastic dance. Usually dressed in elegant circus costumes or unique Kikimora designs.
Clowns and Mimes
Humorous characters for interactive or stage performance with object manipulation, comedic dance and audience participation. Theme mimes dress and act in 1920s silent film style, Geisha, Venetian carnival or custom character for your event.
Circus Acts
Circus acrobatic acts, for stage and interactive performances.
Live Tables
Living table installations are available in many themes, colors and custom designs, made by Kikimora Studio with the best materials and a unique aesthetic.
Musicians
Unique live musical group and solo acts for ambient sound as well as high-energy entertainment, classical music bands and modern cover bands.
Dancers
Choreographed dance performances by local and international dance academies.
If you are planning to tie the knot this year, Kikimora Studio can provide event entertainers to make your day extra special! From stilt walkers, to lavishly costumed greeters to living tables we can do it all. Contact us today to book your wedding entertainment.